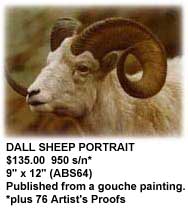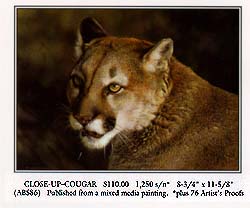 Decoy's and Wildlife Gallery hosted a personal appearance by renowned wildlife artist Carl Brenders on Saturday, Sept 13th, 1997.
Carl Brenders' art is a reflection of nature. He has the ability to take us where even the most intrepid of field guides cannot - in the pines, nose to nose with bright eyed chipmunks and deep into the woods, shoulder to shoulder with wolves, making us feel like one of the pack. Of this ability Brenders says, "A painter is a privileged being, because in his imagination he can come very close to the animals he paints. In reality, one can never come this close to wild animals, particularly if they are predators."
Brenders' respect for all creatures, from the friendly to the ferocious, is evident in his mastery of every detail about them. Not a whisker, not a twig, not a feather is overlooked. His paintings have a tactile reality. We study them, becoming familiar with every feature of the subject and its habitat. Beyond knowing how such scenes would look, we sense how they would feel.
Brenders' insistence on anatomical perfection in his paintings stems from his philosophy that nature, itself, is perfection: "That is why I paint the way I do...I want to capture that perfection. An intense man, he sees the minutia that the average person misses. But even more incredibly, when viewing a Brenders' painting, we are able to see what the artist sees, exactly as he sees it. Viewing the art of Carl Brenders is like suddenly having one's vision become crystallized.
Even though Brenders feels that there are not enough hours in a lifetime to do all the paintings he would like, he deems details as small and as common as lichens worthy of his time and attention. He reasons that if it takes a lichen 200 years to grow as large as a coin, surely he can devote the extra hours necessary to render its every subtlety precisely and perfectly.
Brenden has been capturing such perfection for art collectors throughout North America and Europe. He has exhibited in the prestigious "Birds in Art" and "Wildlife in Art" shows for the Leigh Yawkey Woodson Art Museum. A dedicated conservationist, the native Belgian artist has raised many funds for environmental and conservation causes with his art. His magnificent art is the subject of the critically acclaimed book, WildlifeN. Abrams in association win Mill Pond Press, Inc.
Decoy's and Wildlife Gallery is an authorized representative of Mill Pond Press, publisher of the sought-after limited edition prints of Carl Brenders, as well as the finest art by other renowned wildlife, floral, Western, fantasy, nostalgia and landscape artists.